Hi there Cooking Fans and Foodies!
One of the wonderful things to come out of New England was the "Fluffernutter" which is a delectable concoction of Fluff and your favorite peanut butter spread between two slices of bread. Simple and delicious! Do you remember the Fluffernutter jingle? If not, or if you want to hear it again play this old commercial:
With all that is going on in life, wouldn't it be nice to sit down and gobble up a good old fashioned Fluffernutter? Well you're in luck because we carry a 16 oz. and even a 5 lb. tub of Marshmallow Fluff! Also when you spend $50 or more you can use Coupon Code: FLUFF15 to save 15% on your entire purchase! Offer is valid April 2-8, 2016. Check out some other items you might want to include in your shopping cart:
Morning Glory All Natural Old Fashioned Coffee Syrup: All natural, gourmet coffee syrup with no artificial preservatives. – 16oz. bottle for $7.99!
B & M Baked Beans: The finest of baked beans, B&M has been baking the best beans for over 100 years. Choose from a variety of flavors. And don't forget the Brown Bread!
Boyajian Fine Oils: Award-winning oils add new dimensions to all kinds of cooking and baking. See our full selection of dipping oils, extracts, and fine vinegars.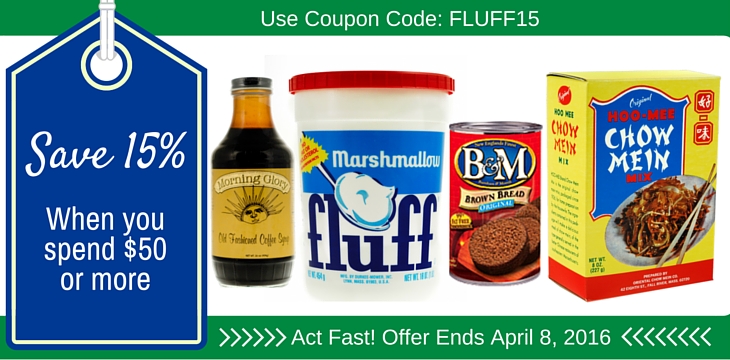 Best Wishes!
-The Gang at FamousFoods.com