Hey friends and foodies!
We don't know about you, but here in the Northeast, we look forward to the return of football season pretty much anytime it's NOT football season. We're about to welcome in two new seasons (football and FALL!) so it's time to start stocking up on all those game day essentials so you can host the best party on the block every Football Sunday.
Save big this week by entering code FOOTBALL at checkout and receive 10% off your entire order.
Game Day Food Favorites
Grill up or steam your favorite hot dogs for the big game! Setting up a hot dog bar is an easy way to make your tailgate or house party more fun!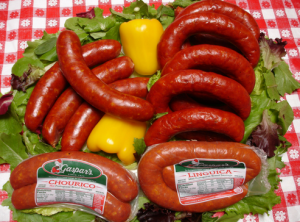 Gaspar's Portuguese Meats
Put Gaspar's Linguica, Chourico, and Kielbasa on your list for gameday must-haves.
Mustard, Pickles, Relish & More
Before you invite the team over, stock up on your favorite condiments.
– Pickles and Relish
– Mustard
– Barbecue Sauces
Looking for more? Click here for Condiments, Sauces, Dressings, & More
Happy football season, folks!
-The Gang at FamousFoods.com