Here in New England, we're not super stoked on football right now but that's okay – it's gray and chilly, it's still football season, and we'll still find an excuse to host some friends and family for game day.
Though our fandom may divide us, it is our hope that good food can unite us. This year, cook up something delicious and bring fans together! Here are a few ideas to get you started:
First things first: Order hot dog rolls that are unique to New England! Put a distinctly New England spin on the hot dogs at your game day party with Gold Medal New England Style Hot Dog Rolls.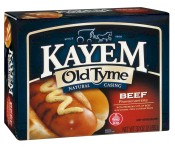 Most importantly, don't forget the dogs! Boil or grill up hotdogs before the crowd arrives and keep warm in either a crockpot or warming tray. We especially love Kayem Hot Dogs and Franks!
Add a little variety (and New England flair) to your buffet with Gaspar's Linguica, Chourico, and Kielbasa!  Each Portuguese sausage has a unique flavor!
Need to add a little extra kick to your wings? Using Bell's proprietary crisping formula, you'll get crispy, restaurant quality wings baked in your home oven each and every time.
If you just need to warm up with some of cures to the winter cold, check out our chowders. Wishing you and your team an exciting and win-filled end of the season!
The Gang at Famous Foods