Hi friends and foodies,
We know it's technically not even Spring yet, but before we know, the Easter bunny is going to be hopping into town. Soon, it'll be time to order Amaral's Sweetbread and other Easter time favorites! Amaral's "Folar", which is a sweetbread that has hardboiled eggs baked into the loaf, is made from an old family recipe which began over fifty years ago in Sao Miguel, Portugal. Use Coupon Code: SWEETBREAD this week and save 10% off your entire order at FamousFoods.com! Code valid between March 9-15.
Large Portuguese Easter Sweetbread w/ 4 Hard Boiled Eggs
This Easter favorite is back! On sale now for $13.99.
This pack includes six individual sized Mini Easter Sweetbreads! Each is made with one hard boiled egg baked in each mini loaf. On sale for $14.99.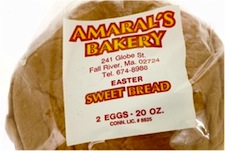 Amaral's Bakery located in Fall River MA produces the best sweetbread using the freshest ingredients! This loaf contains 2 hard-boiled eggs. On sale for $8.29.
---
Amaral's Shipping Guidelines
Amaral's Portuguese Sweetbreads, Muffins, and Biscuits are baked and shipped on Tuesday of each week to ensure freshness. Please check below to see when certain bakery items must be ordered by.
Please order these bakery items by Monday at 10AM EST:
Large Portuguese Sweetbread, Portuguese Biscuits, Raisin Portuguese Sweetbread Rolls, Portuguese Easter Sweetbread with 2 Eggs and Portuguese Mini Easter Sweetbreads with 1 Hard Boiled Egg (6 Pack)
Please order these bakery items by Monday 3PM EST:
Bolos Levedos Portuguese Muffins (Plain and Raisin), 13 oz Portuguese Sweetbread, Portuguese Sweetbread Rolls
Please order these bakery items by Friday, 8AM EST:
Large Portuguese Easter Sweetbread with 4 Hard Boiled Eggs
Shipping Method Required: These products are only packed for Ground Shipping.  For Premium Shipping, please contact Customer Service for a shipping quote. For shipping to Alaska or Hawaii, please contact us for the exact shipping amount. (1-866-646-4266)
-The Gang at FamousFoods.com