Hey there friends and Foodies,
With just two weeks left until Turkey Day, which means time is running out to get your hands on your Thanksgiving essentials like Bell's Seasoning, One- Pie Squash and all your staples for the holidays.
If you're looking for an excellent recipe for stuffing using Hertigate Mill's Milk Crackers, check out last week's blog. And keep in mind that you can add a little Portuguese twist to your holiday with Gaspar's full line of meat products.
Don't wait too long – this is the last weekend to order your Thanksgiving staples to have them delivered to your door in time with ground delivery! Now is the BEST time to buy as our biggest Thanksgiving sale is happening this week – 15% off your ENTIRE order!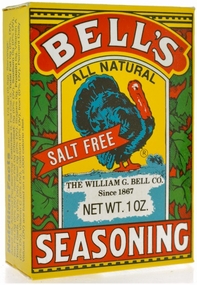 Bell's Seasoning
As far as New Englanders are concerned this is the only turkey seasoning that matters when it comes to your Thanksgiving Day bird. Also be sure to check out the new 8oz size in a convenient plastic jar!
Seasoned with the classic flavors of Bell's Seasoning, this stuffing mix is simple and delicious. Trusted by generations of New Englanders, Bell's Stuffing is great inside the bird or on the side!
Dress up this year's Thanksgiving dinner with the exquisite flavors of Gaspar's Linguica & Chourico. Local favorites here in South Eastern, MA!
This hard to find One-Pie recipe for squash pie calls for spices such as ginger, cinnamon, and nutmeg; can you almost smell the pie cooking in the oven?
Our giant Thanksgiving sale runs through Friday, November 16 so don't hesitate to start filling those carts on FamousFoods.com. Ensure that all your holiday necessities arrive to you on-time AND save big while doing it – 15% BIG!
Keep in mind that after this week, shipping will be dependent on the day of the week and the product you are ordering. So take advantage of the early bird savings now! (Check out our Thanksgiving Shipping Guidelines here.)
Happy Thanksgiving prepping!!
-The Gang at Famous Foods