All along the coast of New England, there is one food staple that you will see popup on restaurant menus, clam shack snack boards, and local grocery store circulars again and again. It's secondary ingredients are potatoes, onions, and milk or cream. Can you guess what that food staple would be? If you are from New England, then you know right off hand what I'm talking about, if not then then I'm sure you have at least heard about this steaming concoction some New Englanders call "chowdah".
SeaWatch New England Style Clam Chowder
SeaWatch New England Style Clam Chowder has been produced by Sea Watch International for over 35 years. They start of with succulent sea clams that have been harvested in the Atlantic and add potatoes, sea clam juice, dehydrated celery, onions, and spices for even more flavor. Add in extra ingredients to make this chowder your very own. Some suggested extra ingredients could be bacon, thyme, basil, celery, chives, black pepper, and even Tabasco sauce–anything to make it your own!
Since SeaWatch did most of the work for you, all you have to do is pour chowder in a pot and add equal amounts of milk. Again add in any extra ingredients you would like, over the years chowder has really expanded it's palate (and you can never go wrong with bacon!) Let the chowder heat up being careful not to boil and you can serve once ready. If you are looking for a much more creamier chowder then instead of adding milk add a quart of half & half as well as a half a stick of butter. There a multitude of ways to enjoy SeaWatch New England Style Clam Chowder. Feel free to share your best recipe in the comment section below!
–The Famous Foodie
Where to buy SeaWatch New England Style Clam Chowder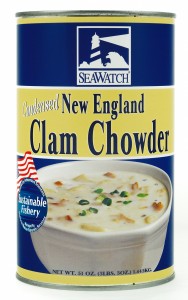 You can purchase a 51oz. can of SeaWatch New England Style Clam Chowder at FamousFoods.com.