Hi friends and Foodies!
We hope you and your family are staying well and making the most out of your time at home together. We're doing lots of baking, making yummy dishes and learning to make the most of what we have stocked in our freezers and pantries which is kind of fun! Even if you're going to be celebrating Easter a bit differently this year, an Amaral's Bakery Sweetbread could be a nice treat! Please note that most sweetbread orders ship on Tuesday as we receive our fresh shipment from the bakery on that day.
This pack includes six individual-sized Mini Easter Sweetbreads! Each is made with one hard-boiled egg baked in each mini loaf. On sale for $14.99.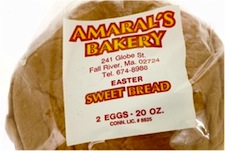 Amaral's Bakery located in Fall River MA produces the best sweetbread using the freshest ingredients! This loaf contains 2 hard-boiled eggs. On sale for $8.99.
Traditional Portuguese Sweet Bread
The perfect recipe has created the best-known sweetbread in the entire area. Bite into a slice and you will be amazed at the sweet taste and soft texture. On sale for $7.99.
There's still time to order for Easter and beyond – these are great breakfast bread all year round! Add butter, peanut butter or jam for the perfect morning coffee addition.
Stay well!
The Gang at Famous Foods