Hey there friends & foodies!
April is FLYING by and we're already fast-approaching Easter weekend. If you are planning on having a some traditional Portuguese sweetbread on your brunch buffet next weekend, this is your final reminder that orders shipping to the eastern half of the country need to be placed by Monday morning at 8 a.m. to arrive to you in time for Easter.
This weekend, you can use cod HOP10 for 10% off your order at checkout.
Large Portuguese Easter Sweetbread w/ 4 Hard Boiled Eggs
This Easter favorite is back! On sale now for $14.99.
This pack includes six individual sized Mini Easter Sweetbreads! Each is made with one hard boiled egg baked in each mini loaf. On sale for $14.99.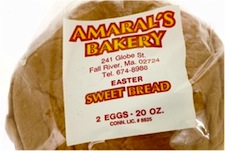 Amaral's Bakery located in Fall River MA produces the best sweetbread using the freshest ingredients! This loaf contains 2 hard-boiled eggs. On sale for $8.29.
Portuguese Sweetbread (no eggs)
The perfected recipe has created the best-known sweetbread in the entire area. Bite into a slice and you will be amazed at the sweet taste and soft texture.
We hope your week is filled with egg-citing plans for the upcoming holiday weekend!
-The Gang at Famous Foods