Hi Friends and Foodies!
We remember back in January, Easter seemed so far away, since it is towards the end of April this year. But here we are – just about two weeks away! If you haven't had a chance yet, now is the time to place your orders for Easter. We have such great options for Easter breakfast that are traditional, New England favorites.
If you place your order this week, you can use code EASTER for 10% off. The code will be valid from Aprill 6, 2019 – April 12, 2019.
Tip:  If we are shipping your sweetbread west of the Mississippi River, we reccomend that you place your order by Thursday 4/11 to ensure ground delivery in time for Easter.
Large Portuguese Easter Sweetbread w/ 4 Hard Boiled Eggs
This Easter favorite is back! On sale now for $14.99.
This pack includes six individual sized Mini Easter Sweetbreads! Each is made with one hard boiled egg baked in each mini loaf. On sale for $14.99.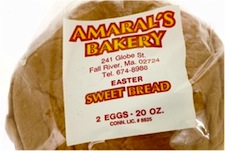 Amaral's Bakery located in Fall River MA produces the best sweetbread using the freshest ingredients! This loaf contains 2 hard-boiled eggs. On sale for $8.29.
Portuguese Sweetbread (no eggs)
The perfected recipe has created the best-known sweetbread in the entire area. Bite into a slice and you will be amazed at the sweet taste and soft texture.
Thanks for shopping with us and we hope you enjoy the spring-like weather!
The Gang at FamousFoods