We have great news for you! Drake's Yankee Doodles have returned with a few added extras. We all remember Yankee Doodles from long ago. The delicious cream center surrounded by chocolate devil's food cake was a treat for all of us! Now Drake's has added a rich chocolatey icing as well. Each box contains 8 fresh creme filled iced devils
food cakes. Your order from FamousFoods.com includes 2 boxes of Drake's Yankee Doodles Iced Cupcakes for $10.99, that's 16 Yankee Doodles there for you to enjoy!
Also returning this season are Amaral's Easter Sweetbreads. These delicious breads will be available to order starting February 27, 2016. For over fifty years Amaral's Bakery has baked Portuguese favorites for all of New England. Their sweetbread is their most popular creation. Amaral's has perfected their sweetbread recipe so that it has the best sweetest perfectly golden outer layer and soft delicious center of any sweetbread. There are a few varieties to choose from.
Portuguese Mini Easter Sweetbreads come in a package of 6. Each miniature loaf comes with one hard boiled egg. Our local Portuguese residents also refer to this as "folar" and request it every spring!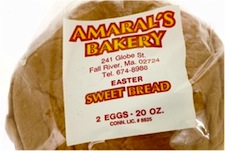 Portuguese Easter Sweetbread with 2 Eggs  from Amaral's Bakery is a hometown favorite which many purchase for Easter. The hard boiled eggs are cooked into the bread and are said to  symbolize rebirth.
The large Portuguese Sweetbread with 4 Hard Boiled Eggs will be available starting mid-March. Our full selection of Amaral's Bakery includes Portuguese Sweetbread rolls, Bolos Levedos Portuguese Muffins, Portuguese Tea Biscuits, and of course traditional sweetbreads.
Don't forget to use Coupon Code: DOODLES at checkout to receive 10% off your order! Code valid from February 27, 2016 to March 4, 2016.
Have a great week!
-The Gang at FamousFoods.com