Hey Friends and Foodies!
It seems like the days are just flying by as we make our way towards Christmas and a New Year. We're loading our digital shopping carts with gifts and hope that you'll include us in your holiday shopping this year. Whether you're buying something for Christmas dinner or sending a gift to a loved one, we'd love to be a part of your holiday!
Most* items can still ship with standard ground shipping for delivery by December 24th but you must order soon to ensure delivery in time.
See our Holiday Shipping Guidelines for all the information you need on getting things where you need them on time.
Want Gaspar's delicious linguica, chourico, kielbasa, and more at your door by Christmas Eve? Place orders with 3-day shipping by December 13, 2021.
A Fall River, MA institution for more than 50 years Amarals Bakery has been crafting mouthwatering Sweetbread for generations of customers. For many residents in our region, Christmas morning wouldn't be complete without some Portuguese Sweetbread from Amaral's Bakery.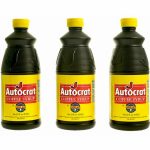 The small state of Rhode Island has been producing its legendary Autocrat Coffee Syrup for almost one hundred years. The yellow and red logo has become an iconic symbol of Rhode Island's official state drink, its establishment in July of 1993 made the flavored syrup even more popular!
Still not seeing something that sparkles? Check out our holiday favorites.
-The Gang at Famous Foods