Hi there Cooking Fans and Foodies,
The month of October was jammed packed with pumpkin flavored everything (spiced lattes, doughnuts, ice cream–you name it!) Hopefully you aren't pumpkin'ed out yet because pumpkin pie is a staple at many Thanksgiving tables. If that's one of your favorite homemade fall deserts we encourage you to place your order of canned pumpkin this week. There is an anticipated shortage this year due to low crop yields. We were fortunate to receive a decent supply but with Thanksgiving coming up our stock is going to go fast.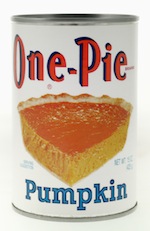 One-Pie canned pumpkin is part of an admired Thanksgiving dessert recipe. Generations of New Englanders have kept this as their main ingredient in their own holiday pies. Made with 100% prepared pumpkin it can be used for baking pies, muffins, cookies, and cakes. View One-Pie's Pumpkin Pie recipe.
This week purchase 6 or more cans of One-Pie Pumpkin for $3.49 each!
More Thanksgiving Item Price Drops!
We were so thrilled about how many of our fans participated in our Halloween Riddles Contest that we've decided to host a Thanksgiving Recipe Contest! The rules are simple. Email or Facebook message FamousFoods.com a Thanksgiving recipe using one of our products or a product you wished we'd carry and be eligible to win a shipment of New England foods! Each week a winner will be chosen. Please submit your recipe before Thursday, November 12. The winning recipe will be featured on our blog, newsletter, and Facebook page!
Thanks for reading!
-The Gang at FamousFoods.com