Hey friends and Foodies!
We're rounding the first weekend in May – which means NEXT WEEKEND (just days away!) is Mother's Day. We know flowers and a nice brunch are always staple gifts, but if you're looking to do something a little extra special this year for Mom, Grandma or just that special woman in your life, try nostalgic candy, sweets, drinks, and food.
This week only, save 10% on your order from Famous Foods to build the perfect basket for Mom or let us do it for you by picking up our gift pack, pack of grilling meats to stock her freezer, or any other New England favorites. Use code MOM10 at checkout to receive 10% off your order.
Mother's Day Gift Ideas
Dell's Lemonade Dry Mix 
If you grew up in New England then you grew up having Del's Frozen Lemonade. Add water, ice, and dry lemonade mix into a blender for 30 seconds to create individual servings of Del's!
Portuguese Sweetbread 13 oz.
Start Mother's Day off right with Amaral's Portuguese Sweetbread!
Eclipse Variety Pack
These one-of-a-kind New England
 favorites are sure to put a smile on mom's face!  Eclipse syrups are also great in milkshakes or poured over ice cream, pudding or cake. Variety pack includes:
Eclipse Coffee Syrup 16 oz.
Eclipse Strawberry Syrup 21 oz.
Eclipse Vanilla Syrup 21 oz.
Harvest Sweets Chocolate Truffle Variety Pack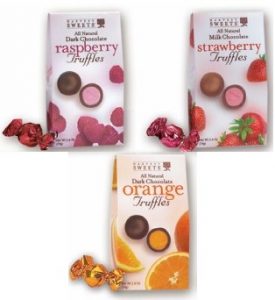 This pack contains three different types of chocolate covered truffles that mom is sure to love, including Milk Chocolate Strawberry Truffles, Milk Chocolate Peach Truffles, and Dark Chocolate Raspberry Truffles. Each style of truffle is filled with a white chocolate ganache flavored with sweet fruit puree and luscious cream, then of course covered in chocolate! See what else Harvest Sweets has to offer
Heritage Mills Milk Lunch Crackers
An ingredient in many recipes, Heritage Mills Milk Lunch Crackers are sure to put a smile on mom's face!  These crackers are light and crispy with a hint of sweetness that can be perfectly paired with a glass of milk, coffee or tea
Shop Heritage Mills Milk Lunch Crackers!
Have a fantastic & warm Spring week!
-The Gang at FamousFoods.com