Hey friends and foodies!
We mentioned a couple of weeks ago that we'd be planning our cookouts for Labor Day before we knew it…and here we are! We're squeaking out as much last-minute summer fun (and food!) as we can, and looking forward to a long weekend with family and friends.
We'd love to be part of your holiday and to help you bring a taste of New England to wherever you may be celebrating. Keep in mind the holiday/shipping time charts at checkout as our fresh meat and loaves of bread are often shipped with 2-day or next-day shipping.
Here are some of our favorite basics to build the perfect cookout menu – great grilling meats, Dells icy, cool lemonade, and all the spices and seasonings you need to kick your meal up a notch.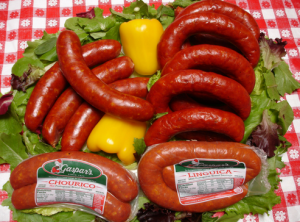 Gaspar's Portuguese Meats
Fill up dad's grill with his favorite New England food: Gaspar's linguica, chourico, and kielbasa! The sampler pack includes 6 lbs. of mouth-watering options.
Kayem Old Tyme Natural Casing Franks
There's nothing better than a grilled hot dog. These franks are natural, flavorful, and hearty. Prepare Dad some of his favorite hot dogs and franks from Kayem this Father's Day.
BONUS – still too hot for you? Cool down with a New England classic – Dell's Lemonde!
Don't forget – we also carry a line of BBQ seasonings and rubs that are sure to add just the right amount of flavor and kick to any dish. Shop our full line here.