Dear Cooking Fans and Foodies,
Great news! Fourth of July is on a Saturday this year. That means bigger and better cookouts. Stock up early on Independence Day barbecue supplies and save 10% or 15%. You can save 10% on purchases of $25 or more with Coupon Code: LUCKYSTARS. Planning a big 4th of July celebration? Use Coupon Code: LUCKYSTRIPES to save 15% on orders of $75 or more! Before you start planning the party of the year, checkout FamousFoods.com's BBQ supplies like Cains Relish & Pickles, Emerils Assorted Rubs, Nathan's Original Coney Island Mustard, Del's Lemonade and more.
Del's Lemonade Soft Frozen Dry Mix Quart
Cool down for the 4th of July with Rhode Island's favorite Del's Frozen Lemonade. Refreshingly sweet and fresh, Del's lemonade has become an iconic beverage in and around Rhode Island. One quart of dry mix equals 1 Gallon of delicious frozen lemonade. If you are looking for more than 16 servings checkout our other Del's Lemonade in ½ Gallon, 1 Gallon, and 5 Gallon buckets!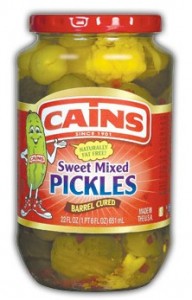 Your Independence Day celebration will be even better when you add legendary Cains relishes and pickles to the BBQ table. Cains has been complementing hot dogs, burgers, and grillables since 1901. Cains has a variety of relishes and pickles to choose from.
Shop for Cains Pickles
Shop for Cains Relish
Nathan's Original Coney Island Mustard
Nathan's products have become legendary in New England. Even Jacqueline Kennedy served Nathan's at the White House. If you are looking for the perfect condiment to have at your 4th of July bash then chose Nathan's Original Coney Island Mustard.
See other mustard varieties.
Spice up your 4th of July BBQ! Four delicious rubs for steak, chicken, ribs and fish. Top-quality ingredients chosen by Emeril Lagasse himself.
Learn more. 
Chef'n Salad Spinner
Making a salad for a crowd is easier with Chef'n Salad Spinner. It's perfect for washing and drying lettuce and other greens. Handle locks for compact storage. You can make your whole salad in here and once you're done store in the fridge! Learn more.