Hey friends and foodies!
December in New England holds a special kind of magic – and we're here to share it with you! We've rounded up some of our favorite holiday items like Bell's Stuffing and Hoo-Mee Chow Mein (a Christmas Eve classic!) and sweet treats for stocking stuffers like Peggy Lawton cookies. Need to spice up Santa's glass of milk? Autocrat has you covered!
If you're shopping with us this month and are thinking of ordering some of our fresh baked items or local meats, please keep in mind our holiday shipping times are a bit different than the rest of the year! You can find more details here.
This week, you can use code DECEMBER at checkout for 10% off.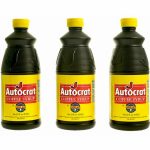 The original Autocrat coffee syrup is known for its smooth rich taste. The finest coffee extracts are used to create this addictive concoction. So addictive, that generations of families have kept at least one bottle on hand at all times to make Rhode Island coffee milk at home!
Bell's Stuffings
We've got the entire line of Bell's stuffing ready to go right from us to your table. Choose from the traditional options, or go with the Cranberry stuffing for a festive treat!
This year, stuff the stockings with some pure New England nostalgia. Peggy Lawton's delicious cookies and brownies have been putting smiles on faces for generations. Order a tray of your favorites today – or try a variety pack!
Hoo-Mee Chow Mein
Have a craving for Chinese food but don't want to venture out on Christmas Eve? We've got you covered! The chow mein noodles and gravy mix are packaged for home preparation so you can make the original chow mein dish yourself!
Be merry and bright!
-The Gang at Famous Foods