Hi friends and foodies!
We're enjoying some still warm but more 'normal' temperatures here in the Northeast this week. This means we can go outside for more than five minutes without breaking a sweat! It's great news for those of us who are trying to squeeze as much as we can out of the beautiful weather before the inevitable season change. Before we know it, we'll be putting together the menus for our Labor Day cookouts.
We wanted to get you started with some classic New England grillers so you can stock your freezer – for now, or for the dead of winter when you need a little reminder of manning the grill in the summer.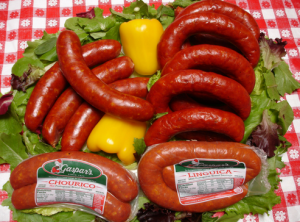 Gaspar's Portuguese Meats
Fill up dad's grill with his favorite New England food: Gaspar's linguica, chourico, and kielbasa! The sampler pack includes 6 lbs. of mouth-watering options.
Kayem Old Tyme Natural Casing Franks
There's nothing better than a grilled hot dog. These franks are natural, flavorful, and hearty. Prepare Dad some of his favorite hot dogs and franks from Kayem this Father's Day.
BONUS – still too hot for you? Cool down with a New England classic – Dell's Lemonde!
Don't forget – we also carry a line of BBQ seasonings and rubs that are sure to add just the right amount of flavor and kick to any dish. Shop our full line here.
Enjoy the last few weeks of August!
The Gang at Famous Foods