Hey friends and foodies,
We're in the 'Fool's Spring' portion of the winter here in New England. We've had a couple of days where temps have climbed to a balmy almost-50 and it's got us thinking about some of our favorite baked goods that come with the transition into spring and the Easter season.
One of my favorite things to do is create a New England-themed breakfast. Here's how you can make a delicious Portuguese breakfast sandwich using the finest chourico patties from Gaspar's! It's easy and delicious – even for the pickiest little eaters in the house. First, fry the chourico on both sides and remove it from heat. Then lower the heat and fry up an egg to your liking using salt and pepper for taste. While that is cooking pop an Amaral's Bolos Levedos Portuguese Muffin in the toaster. If you'd like to add cheese to your egg. Once the muffin is heated build your breakfast sandwich with the chourico patty and egg! Some people like dipping it in hot sauce or ketchup.
Bolos Levedos Portuguese Muffins 14 oz.
Toast them up or eat them straight out of the bag; you'll love them either way!  As stated above, Bolos Levedos are great for breakfast sandwiches!
They're Back!
For over fifty years Amaral's Bakery has baked Portuguese favorites for all of New England. Easter is just under a month away so you may want to start thinking about your order now!
Portuguese Mini Easter Sweetbreads come in a package of 6. Each miniature loaf comes with one hard-boiled egg. Our local Portuguese residents also refer to this as "folar" and request it every spring!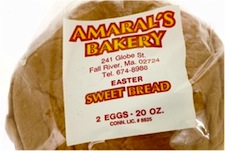 Portuguese Easter Sweetbread with 2 Eggs from Amaral's Bakery is a hometown favorite for Easter. The hard-boiled eggs are cooked into the bread and are said to symbolize rebirth.
Our full selection of Amaral's Bakery includes Portuguese Sweetbread rolls, Bolos Levedos Portuguese Muffins, Portuguese Tea Biscuits, and traditional sweetbreads can be found here.
-The Gang at FamousFoods.com