Hey friends and foodies!
We hope the weather where you are is starting to take a turn for the better and you're enjoying some early spring sunshine and flowers. Here in New England, we're looking forward to backyard grilling and days on the beach while trying to enjoy all the beautiful things that spring brings us. We're feeling a bit nostalgic today and focusing on some of our classics – you know, the foods that are so yummy that it doesn't matter what time of the year it is or what the weather is outside!
Here are some of our must-have pantry and food staples:
Hoo-Mee Cho Mein is the perfect item to keep in your cabinet for when dinner needs to be fast, simple, and yummy. You can serve up a steaming bowl of Chow Mein with crunchy noodles or pile it all into a sandwich – either way, it's delicious!
If you're planning on sticking close to home and your own grill, now is the perfect time to load the freezer with a variety of meat so you can have your choice of Kayem Franks or some traditional Portuguese meats like linguica. Remember when your grandmother used to keep bread in the freezer? Grab hot dog buns while you're at it and toss them in there!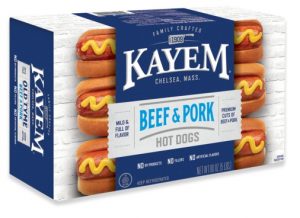 And don't forget the snacks – indulge your sweet tooth. We carry Drake's full line of Devil Dogs, brownies, coffee cake, and Funny Bones and Peggy Lawton treats!
Enjoy the weather and get yourself a Peggy Lawton brownie – you deserve it!
-The Gang at Famous Foods