Hey friends and foodies!
It feels like it went from a humid, 80 degree, summer day to a chilly fall morning in the matter of a few hours here in New England! We're starting to pack up those BBQ's and lawn chairs and break out our cozy socks and blanket for another season by the fireplace. This week, we're sharing some of our fall favorites – a couple of which are great Thanksgiving staples if you want to start stocking up early!
You can save 10% on your order by using the code listed at the top of this page.
Heritage Mills Lunch Crackers
The texture of the Classic Milk Lunch Crackers makes it a perfect snack option for those who enjoy a light and crispy cracker! Heritage Mills snack crackers are good enough to eat right out of the box alongside a glass of milk or a cup of tea.
Chow Mein Mix 
Make dinner easy with a Fall River, MA favorite! This recognizable yellow box has been turning out mouth-watering Chinese dishes for generations of New Englanders.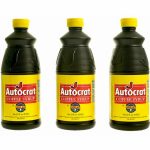 Autocrat Coffee Syrup 
The original Autocrat coffee syrup is known for its smooth rich taste. The finest coffee extracts are used to create this addictive concoction. So addictive, that generations of families have kept at least one bottle on hand at all times to make Rhode Island coffee milk at home!
Bell's Stuffing Mix
Bell's Ready-Mixed Stuffing is versatile for both in-bird and stovetop recipes. Generations of Bostonians and New Englanders have trusted Bell's to complete their Thanksgiving dinners. Bell's is the best turkey stuffing for any holiday meal; a variety of preparations are available including poultry, pork, fish, or vegetables.
Stay cozy!
-The Gang at Famous Foods