Happy June, cooking fans and foodies!
We are officially into June which basically means it's summer and Father's Day! If you're planning a cookout for Dad this year (even if you know he'll insist on manning the grill), help him out by buying everything he needs for the perfect New England cookout. Surprise him with Gaspar's famous chourico and linguica or Kayem hot dog and franks. All this week, you can save 10% with coupon code DAD10 at checkout. If you're looking for more New England favorites, browse FamousFoods.com!
Fill up dad's grill with his favorite New England food: Gaspar's linguica, chourico, and kielbasa!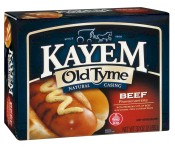 Kayem Old Tyme Natural Casing Beef Franks
Sometimes there's nothing better than a grilled hot dog. These franks are natural, flavorful, and hearty. Prepare Dad some of his favorite hot dogs and franks from Kayem this Father's Day.
TownTalk Hot Dog Buns, Sliced 18 oz. (New England Style)
If your dad grew up in New England then we'd bet he's had New England Style hot dog buns and prefers them! They're sliced across the top, making it easy to grill both sides to golden perfection.
Drake's has been providing New England with delicious snack cakes for over a century! New England favorites include: Funny Bones, Yankee Doodles, Yodels, Ring Dings and Devil Dogs.
Clam & Lobster Steamer 19 Qt. with Faucet
Doing a clamboil to celebrate Dad this year? No seafood lover should be without this Granite Ware 3 piece, 19 quart decorated clam & lobster steamer with lid and faucet. Surprise dad with this so he can cook his own favorite New England food!
More Clam & Seafood Pots to choose from!
We hope your first week of June is filled with sunshine and lots of times with friends and food outside!
-The Gang at FamousFoods.com