Hey friends and foodies!
Here in the Northeast, we're closing out another summer month with a stretch of typical New England weather – it's hot, it's muggy, it's almost August! We're taking a bit of time (indoors, in the AC) to celebrate two of our favorite classic brands this week that can bring a taste of New England to anywhere in the country.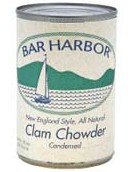 Whether you're a fan of classic clam chowder, corn chowder, lobster bisque, or even clam juice, we carry a full line of Bar Harbor products for those who want an authentic, coastal Maine lunch, dinner, or starter. Bar Harbor creates its products in small batches as people on the Maine coast have for generations. It's as close to fresh off the docks of Maine as you can get without being there.
If you're finding yourself seafood-ed out, and you're craving something sweet, we can help there as well! Take the time to refill those snack drawers with Peggy Lawton brownies and cookies. We have variety packs for someone who wants a little bit of everything or you can get a case of Oatmeal, Butter Crunch, or Shortbread cookies if you have a favorite and never want to run out. The variety pack combines the chocolaty goodness of Fudge Brownies and the Chunk Chocolate Cookies with the sweet tastes of Peggy's Choco-Chip, Oatmeal, and Butter Crunch Cookies!
Stay cool!
-The Gang at Famous Foods