Hello Cooking Fans, Foodies AND Baseball Fans!
Besides apple pie is there anything more "American" then a steaming hot dog at a baseball game? With that in mind there is likely nothing more "New England" then having an official Fenway Frank in hand and watching the Boston Red Sox play at Fenway Park. Can't you just imagine yourself sitting behind home plate looking out at the notorious Green Monster? Kayem's Fenway Franks makes it possible to bring the game day food to you, your family, and friends. Whether you are all together watching the game on T.V or in the backyard enjoying a summer barbecue.
The Boston Red Sox and Kayem share a special bond, since it was here in Massachusetts that Kazimierz Monkiewicz started his company after moving to the United States from Poland. If you visit Fenway there are 11 concessions stands to order your Fenway Franks; that's more than what they have for hamburgers, chicken tenders, fries, and Cracker Jacks! Kayem only uses the very best cuts of beef and the right amount of spices that New Englanders love. With those kind of facts it's difficult to deny the great taste of Kayem's Franks and the nostalgia it holds close to our New England hearts.
Get your Fenway Franks in time for the Red Sox Home Opener against the Washington Nationals on Monday April 13th. Enjoy $10 off of $60 or more from April 4th to April 10th! Use Coupon Code: OPENINGDAY
Happy Baseball Season!
—The Famous Foodie
Fenway Franks and More
Kayem Fenway Pork & Beef Franks
Make sure your cable package has NESN and place your order for Kayem's own authentic Fenway Franks. Eight franks per package (Total 40 franks). Before ordering, please refer to the Special Shipping Requirements.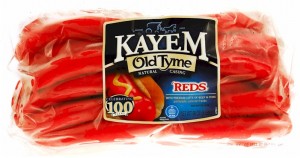 Kayem Deli Old Tyme Natural Casing Reds Franks
Hot dog lovers around the United States love the flavor and snap of Kayem Deli Old Tyme Natural Casing Reds Franks! Order yours today. Approximately 30 franks per package (Total of 60)
Kayem Old Tyme Natural Casing Beef Franks
The natural casing seals in all the juices to keep their bold flavor and give them that "snap". Grill some up and enjoy the heartiness of these natural casing beef hot dogs. *Gluten Free
TownTalk Hot Dog Buns
Put a distinctly New England spin on the hot dogs at your next barbeque with TownTalk New England Style Hot Dog Buns. Other rolls may be sliced down the side but these hot dog rolls are sliced across the top, making it easy to grill both sides to golden perfection. This split top feature, believe it or not, is uniquely "New England".
---
Good to Know…
Kayem, the company name stands for Kazimierz Monkiewicz's initials which when sounded out properly it should sound like (Kay)-(Em).
---