Dear Cooking Fans and Foodies,
Daylight Savings is happening Sunday, March 12 and yes that means we lose an hour of sleep. On the bright side it also means spring is on its way. To help you prepare for your unavoidable sleepy mornings we suggest you make a delicious Portuguese breakfast sandwich using the finest chourico patties from Amaral's! It's simple and delicious. First fry the chourico on both sides and remove from heat. Then lower the heat and fry up an egg to your liking using salt and pepper for taste. While that is cooking pop an Amaral's Bolos Levedos Portuguese Muffin in the toaster. If you'd like add cheese to your egg. Once the muffin is heated build your breakfast sandwich with the chourico patty and egg! Some people like dipping it in hot sauce or ketchup. Either way your Portuguese breakfast sandwich will make your mornings much better! Don't forget use Coupon Code SAVE10 and save 10% off your entire order! This code is valid March 4-10, 2017.
Bolos Levedos Portuguese Muffins 14 oz.
Sink your teeth into the freshest, most mouth-watering muffins you've ever had. Toast them up or eat them straight out of the bag; you'll love them either way!  As stated above, Bolos Levedos are great for breakfast sandwiches!
Gaspar's Chourico Slices 1 lb.
Chourico has a kick of spice to it! Perfect on your breakfast sandwich or on the grill!
They're Back!
Amaral's Easter Sweetbreads have made their seasonal return! For over fifty years Amaral's Bakery has baked Portuguese favorites for all of New England. Their sweetbread is their most popular bakery item. Amaral's perfected sweetbread recipe creates a sweet perfectly golden outer layer and soft delicious center.
Portuguese Mini Easter Sweetbreads come in a package of 6. Each miniature loaf comes with one hard boiled egg. Our local Portuguese residents also refer to this as "folar" and request it every spring!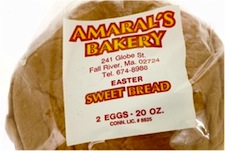 Portuguese Easter Sweetbread with 2 Eggs  from Amaral's Bakery is a hometown favorite which many purchase for Easter. The hard boiled eggs are cooked into the bread and are said to  symbolize rebirth.
The large Portuguese Sweetbread with 4 Hard Boiled Eggs will be available starting mid-March. Our full selection of Amaral's Bakery includes Portuguese Sweetbread rolls, Bolos Levedos Portuguese Muffins, Portuguese Tea Biscuits, and of course traditional sweetbreads.
We hope you take our advice and whip up a delicious Portuguese breakfast sandwich!
-The Gang at FamousFoods.com