We've been stuck in our offices and warehouses for long hours on account of the snow storms and cold, so we're doing a little winter cleaning and organizing to pass the time!
We've rounded up a list of our favorite clearance items so you can stock up and save this season on some of the best products Famous Foods has to offer. Here are our picks:
Harvest Sweets Dark Chocolate Covered Key Lime Mango
All-Natural juicy mango pieces are infused with key lime to create a sweet concoction of fruity flavors. The tantalizing combination is then covered with indulgent dark chocolate.
Tortuga Original Caribbean Rum Cake 
Tortuga's World Famous Tortuga Rum Cakes with Walnuts are baked fresh daily in the Cayman Islands, Bahamas, Barbados and Jamaica with only the finest natural ingredients, including imported walnuts. On sale for 43% off – only $12.99!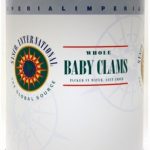 Imperial Whole Baby Clams 
It may be frigid outside, but it can feel like summer with whole baby clams. These are perfect for use in clam sauce, clam and seafood chowders, or to flavor dip. Grab a 28 oz. can for only $10.99.
Check out our entire clearance and overstock section here.
Need some staples or your traditional favorites? Browse all our New England-inspired products easily here.
All week long, save an extra 10% off clearance items with code WINTER. The code is valid Saturday, Jan. 20 – Friday, Jan. 26.
Talk to you next week. Stay warm!
-The Gang at Famous Foods